Used by
Allies
Enemies
AwakeningGoji, S.H. MonsterArts MireGoji, X-Plus ShodaiGoji, One-Eyed Baragon, Godzilla, Gamoni, GMKGoji, Coyote Tango, RyuMask, CenturyRado, ShodaiGhido, Crackin', Skeleturtle, Anguirus, CenturyAngira, Mutavore, Karloff, Shameless Fox, Onacha, Dopant Rider Venus, RyuMask, Garou
Species
Age
Height
Length
Faction
Category
Godzilla 2015 (also known as 15Goji) is a Godzillasaurus kaiju created and used by ShodaiMeesmothLarva.
Appearance
He basically looks like a normal Gojiran, but with sharp dorsal plates.
Personality
15Goji is an animal with at least semi-sapience that stumbles upon human civilization without any malicious intent, only destroying man-made structures or obstacles like buildings when the humans provoke him, or, when dead-set on arriving at a certain location.
Origins
It is theorized that 15Goji was a type of dinosaur called Godzillasaurus (also called Gojirans in Japanese) that had survived the extinction of the dinosaurs at the end of the Cretaceous period living on Lagos Island that was mutated by nuclear tests performed on a nearby island called Bikini Atoll in the 1950s.
History
2015
Introduction: 15Goji vs. AwakeningGoji
15Goji first appeared in the countryside of the Philippines, and he fought AwakeningGoji. But then he goes to Manila to distract him, and then he almost killed AwakeningGoji when 15Goji used his Atomic Breath and causes him being buried by the 1322 Golden Empire Tower. It is unknown if AwakeningGoji survived.
Battle in Japanese Countryside: 15Goji vs. S.H. MonsterArts MireGoji
He reappeared in Japan, to feed a nuclear power plant, but he was encountered by SHMA MireGoji. He begins to attack SHMA MireGoji but then he got distracted by the lights in the sea, causing 15Goji to follow it, but it turns out to be a a trap set by the humans to kill him. He destroys most of the military vehicles, and retreats to the sea.
Battle of San Francisco
He appeared again in San Francisco, encountered both X-Plus ShodaiGoji and a four-legged monster called One-Eyed Baragon.
He was killed by One-Eyed Baragon, but his cells were sent to space after a nuclear bomb was detonated by the human's attempt to kill One-Eyed Baragon.
2016
Reappearance in the Philippines: 15Goji
A nuclear submarine crashed on the coast of San Francisco, causing his remains to regenerate. However, an loud explosion from Regina Island awakened him.
Days later, he reappeared in the Philippines and begins attacking the city of Manila. After his rampage, the city is left in ruins and he begins heading towards the ocean to hunt for other Gojirans.
15Goji on Monster Island
While hunting for other Gojirans, he fought Godzilla on Monster Island. but the battle is only short, he retreats from Godzilla after his attempts to kill him.
Terror in Nagoya: Wrath of 15Goji
He emerges in the city of Nagoya, and rampages through the city. but after that he returned to the ocean, leaving the city in ruins.
Terror in Berlin: 15Goji vs. Gamoni and GMKGoji
After his attack in Nagoya, he reappeared in Berlin, Germany and fought Gamoni, GMKGoji, Coyote Tango, and RyuMask.
However, he retreated as GMKGoji and Gamoni made him bleed in his chest and left eye.
15Goji vs. CenturyRado
He began attacking ships in the Pacific, while CenturyRado appears and fought him.
15Goji vs. ShodaiGhido: Osaka Mayhem
15Goji attacks Osaka, but he was confronted by ShodaiGhido.
15Goji vs. Crackin': Battle in the Atlantic
He appeared in the Atlantic Ocean, but he teams up with Ebirah, Neo Godzilla and Titanosaurus to fight Crackin'. After an lengthy battle, they sucessfully made the squid monster retreat.
Attack on Paris
15Goji appears in Paris, France after his battle with Crackin', he fought Skeleturtle, Anguirus, CenturyAngira, Mutavore, Karloff, Shameless Fox, Onacha, Dopant Rider Venus, RyuMask, and Garou.
Monster Island War III
Main article: The Third Monster Island War
This section concerns an upcoming subject, and will be updated with new information as it arises.
Abilities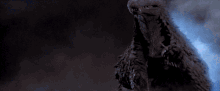 Atomic Breath: An blue atomic ray generated from inside of his body.

Spiral Breath: A purple, stronger version of the Atomic Breath
Spiral Ray: A red, stronger version of the Spiral Breath.

Nuclear Pulse: A nuclear blast created when he begins to glow.
Sharp Dorsal Plates: They heat up whenever he begins to charge his Atomic Breath, Spiral Breath or Spiral Ray, They also can be used to cause slashes on flying opponents.
Atomic Roar: It can be used to stun enemies for 20 seconds.
He can use melee attacks.
He can breathe underwater.
Gallery
Roar
Trivia
15Goji is one of Meesmoth's very first Gojiran characters.

15Goji is similar to KiryuGoji in terms of design, as it is Meesmoth's favorite Gojiran design.

In Attack on Paris, he is mostly focused fighting Skeleturtle, Anguirus and CenturyAngira.

This is due to the fact that 15Goji hates four-legged monsters for an unknown reason.
Space15Goji
Used by
Allies
Enemies
15Goji (archenemy)
Female SpaceGodzilla (archenemy)
GKC BatoGoji, SHMA Kiryu, Romani Tango, Lighting Mothra, CenturyRado, GMKGoji, Clover, Gipsy Danger, Ucigas, CenturyHedo, CenturyAngira, Mutavore, Onibaba, Monster X, Titanium Gigan, Getter 1/Getter 2/Getter 3
Species
Age
Height
Length
460 meters (Flying)
470 meters (Standard)
Faction
Category
Space15Goji is a heavily-modified 15Goji clone kaiju created and used by ShodaiMeesmothLarva.
Appearance
Space15Goji looks similar to 15Goji in many ways, but his skin is navy-gray with a patch of dark reddish-white skin, that appears much smoother than the rest of his skin.
He has two massive white crystals that is on his shoulder, and his tail is much longer.
His dorsal plates on his back appear more crystalline in shape, and are black in color.
He has a great-deal of trouble walking and he cannot run, but he makes up for this by having the ability to fly.
Personality
Space15Goji is one of Meesmoth's most intelligent characters (after Female SpaceGodzilla), exhibiting displays of planned combat strategy throughout his RP appearance.
Space15Goji intended to kill any kind of Gojirans so the Earth would be defenseless when he dominated it.
Origins
His origins is unknown, but it is possible that 15Goji's cells were brought into space by an nuclear bomb that was detonated in the city of San Francisco by the human's attempt to kill One-Eyed Baragon.
History
2015
Introduction: Battle in Manila
Space15Goji landed in a lake near Tokyo, and heads to Manila. and than fought GKC BatoGoji, Their fight caused the city to sink. burying him alive.
He rises from the ruins, fought BatoGoji again. because of SHMA Kiryu, he retreats.
Space15Goji vs. Romani Tango
He appeared in a village near Osaka, fought Romani and Lighting Mothra. but CenturyRado and GKC BatoGoji came, The four monsters killed Space15Goji after a long battle.
2016
Space15Goji vs. Clover: Mayhem in Osaka
One year later after he was killed, he reappeared in Osaka and fought Clover, Gipsy Danger, and GMKGoji. After an lengthy battle, he made Clover and Gipsy Danger retreat while GMKGoji forces him to retreat.
Space15Goji vs. CenturyHedo
He fought CenturyHedo after he began causing ship disasters again in the Pacific, but CenturyHedo retreats.
Terror in Shanghai: Space15Goji vs. CenturyAngira
He reappeared in Shanghai, China and fought Getter 1/Getter 2/Getter 3, Mutavore, Onibaba, Titanium Gigan, Monster X, and CenturyAngira.
Abilities
He can fire a Corona Beam from his mouth.
He has super regenerative powers.
He increases in power by being near gigantic crystals that he creates.
He is able to implant cosmic power in structures that can transmit a signal and have them act as an energy source.
He can encase his body in a shield to deflect projectiles.
He can unleash bolts of energy from his shoulder crystals.
He also can emits electrical disturbances.
Weaknesses
Space15Goji's shoulder crystals are not strong enough to withstand any kind of missiles, or beams. If his shoulder crystals are destroyed, Space15Goji's power becomes unstable and he will explode.
Roar
Trivia
Ad blocker interference detected!
Wikia is a free-to-use site that makes money from advertising. We have a modified experience for viewers using ad blockers

Wikia is not accessible if you've made further modifications. Remove the custom ad blocker rule(s) and the page will load as expected.