Used by
Allies
Enemies
Species
Age
Height
Length
Faction
Category
| | | |
| --- | --- | --- |
| " | Your under arrest Decepticons! | "  |
| | — 9K | |
Officer 9K is a captain of the highly-trained Maximal officer and a RP character used by Gallibon the Destroyer.
Personality
9K is a no-nonsense, high-ranking and highly decorated Maximal officer, but he likes to stay in the field with his troops despite his high rank. He is highly skilled with energon weapons as well, making a cunning adversary.
History
Debut and Death: Tabriz Tango
Officer 9K along with the rest of his Maximal Cop allies appeared on Earth and landed at Tabriz to arrest/detain Knock Out, Scurrydown and Janitornator. After giving out a list of all the crimes the three 'Cons had committed in the past and believing them to be allied with Team Destron (which to 9K was a big no-no) he ordered the three 'Cons to be exterminated. He ordered Stopgap and Switchblade to then finish them off, but before they could do so, they were finished off by Nemesis Prime, who had arrived onto the scene. After Deepcase was killed, 9K stepped in to fight off Nemesis Prime himself as he was the last Maximal Cop on the field left.
9K fought off Nemesis Prime for a little while, but Nemesis Prime soon got the upperhand by crushing 9K's energon sword and bashed 9K down on the ground with enough force to crack the ground. 9K was then killed by Nemesis Prime when Nemesis Prime repeatedly smashed 9K onto the ground, until 9K was smashed into smithereens.
Equipment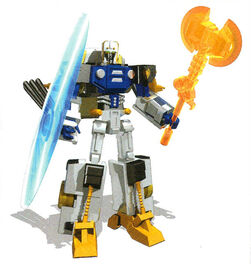 Energon Sword: 9K carried a large and powerful Energon sword that was almost a big as he was and could into large rocks.  
Energon Shield: 9K was also armed with a protective Energon shield.
Trivia
His name is based off the word "K-9" which itself is a pun on the word "canine".
Ad blocker interference detected!
Wikia is a free-to-use site that makes money from advertising. We have a modified experience for viewers using ad blockers

Wikia is not accessible if you've made further modifications. Remove the custom ad blocker rule(s) and the page will load as expected.