Black Cat of Bad Omens, Chen
Used by
Allies
Enemies
Tenshi, anyone who Ran says is her enemy
Species
Age
Height
Length
Faction
Category
| | | |
| --- | --- | --- |
| " | Uh... what? This is our home. Get out of here now! | "  |
| | — Chen to an intruder | |
Chen (橙?, Chen) is a bakeneko in service of Ran Yakumo.
Personality
Chen is a mischievous, childish bakeneko, serving as Ran's servant (and by extension, Yukari's servant), and will do anything Ran or Yukari tell her to do without question. Outside of this, Chen more or less acts as Ran's daughter, in a sense, and often does childish things, such as gathering a group of cats in an attempt to gain a shinkigami of her own. Despite this, Chen still has her serious moments, especially when doing tasks for her masters.
Chen also hates water, not only due to her cat-like nature, but due to it interfering with her link with Ran, thus making her weaker.
Abilities
Skillcards
TBA
Spellcards
TBA
Theme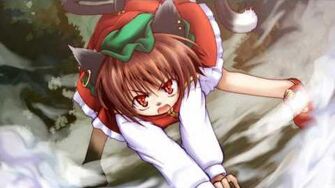 Ad blocker interference detected!
Wikia is a free-to-use site that makes money from advertising. We have a modified experience for viewers using ad blockers

Wikia is not accessible if you've made further modifications. Remove the custom ad blocker rule(s) and the page will load as expected.