Used by
Allies
Enemies
Species
Age
Height
Length
Faction
Category
Doublas (ダブラス Daburyuusu) is a creepy dragon monster who serves Keris and a RP character used by Gallibon the Destroyer.
Personality
Doublas is a mysterious and enigmatic monster and little is known about him other then he's pretty aggressive when it comes to combat and is very, very quiet.
History
Debut: Release the Beasts
Doublas was previously a wild monster that was captured and then tamed by the Machine Beast Tamer, Keris.
Soon, he along with Futakobukarappa and Garansharp were summoned to cause some mischief and to test their strength. Daburyuuus focused on attacking Gamera, firing his magma beams at him as well as ramming at him, but Gamera soon prevailed and fought back against Doublas hard. Gamera soon got the upperhand and grabbed Doublas and threw him at Garansharp.
Daburyuusu then charged at both Gamoni and Gamera along with his two comrades, but he was defeated by the combined attacks of Gamera's strength and Gamoni's plasma beam at full charge. Daburyuusu then flew off, retreating. As the three kaiju met back up with Keris, Keris believed that they needed more work.
Abilities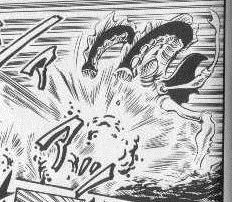 Flight: Doublas can fly at Mach 6.
Magma Beams: Doublas can shoot out two hot molten beams from his two "heads".
Pincers: Doublas has sharp pincer-claws on each of his arms that he can use for combat.
Burrowing: Doublas can also burrow underground at fast speeds.
Trivia
Doublas's name might be a reference to the fact that he has two heads and four arms. Interestingly enough, "Doublas" also just so happens to be the name of a Mazinger Z monster.
Despite being a dragon monster, he also shares some insect-like traits, such as on his limbs and his chest.
His eyes are actually on his chest.
Doublas might be based off the scrapped Gamera kaiju Wyvern, but this hasn't been officially stated.