Used by
Allies
Enemies
Species
Age
Height
210 meters (At base of cloak)
Length
Faction
Category
Dante is a spectral warrior beast used by Ghidorahnumber1.
History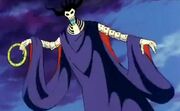 Dante emerged from the Nevada desert, destroying the ship of the Robot Monster. He then went to Las Vegas and destroyed it. He then traveled in the clouds to London, which his destroyed. He fought Coyote Tango and Ryuk, and was defeated.
He woke up again, this time freeing his Spectral Beasts. After Achilles was defeated, he retreated.
He went to Australia, destroyed Sydney, and freed the Insect Warrior Beasts.
He emerged again, attacking Queen Humania's ship, fighting her and Coyote Tango. He lost, and retreated into the ground.
Motives
Dante is a radical that wants to destroy the humans and raise the Mycenae empire again. He will do this at any cost, and has hinted at a person giving him orders.
Abilities
Tornado Spout- Creates a tornado from his cloak
Lightning Fingers- Shoots lightning from fingers
Laser Rings- Shoots a series of laser rings from his hand
Crown Ring Boomerang- Throws his ring-crown, acting like a boomerang.
Quick Drill- Spins around very fast, causing the cloak to harden and allowing him to drill through the ground.
Weather Change- Can shoot a beam into the air, causing a temporary changed in the weather to his liking.
Quotes
| | | |
| --- | --- | --- |
| " | Foolish mech! You dare challenge the mechanical god of storms!? | "  |
| | — Dante to Coyote Tango | |
| | | |
| --- | --- | --- |
| " | The Mycenae Empire will rise again! | "  |
| | — Dante | |
Ad blocker interference detected!
Wikia is a free-to-use site that makes money from advertising. We have a modified experience for viewers using ad blockers

Wikia is not accessible if you've made further modifications. Remove the custom ad blocker rule(s) and the page will load as expected.