Used by
Allies
Enemies
Species
Age
Height
Length
Faction
Category
The Erpon are an aquatic amphibious like race, though they generally like watery areas, they hate swamps and do not care for marshy areas. They are from the planet Artoul and mostly spend most of their time in water, although they live in cabins and huts on land. Erpons are victims of slavery and hunting despite their human like nature.
Appearance
The Erpon are covered in green scales with a yellow chest. They have gem like eyes and also have a horn on their heads which they refer to as "hair".
Distribution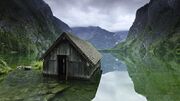 Erpons live in huts and cabins by lakes and rivers, so they can go out for a morning swim. The huts can be easily destroyed, so most try to build cabins.
Diet
Erpons are omnivores. Although most prefer a herbivorous diet consisting of fruit and vegetables, some will favor an insectivorous diet.
Religion
The Erpon are highly religious as they worship the water dragon Ce-Drakos, the sea dragon is known for his high intelligence and is considered one of the wisest gods in the universe. This is why the Erpon generally prefer peace over violence. 
Intelligence
The Erpon is one of the most intelligent races in the universe, while they are generally weak in strength, they make up for it with their very high intelligence.