Used by
Allies
Enemies
Species
Age
Height
Length
Faction
Category
Godzilla 2007 is a character used by GarudaGoji.
History
After the events of Godzilla:Unleashed, Godzilla 2007 went to sleep in the ocean until he woke up eight days later hunting down Power Surges to destroy.
His current whereabouts are unknown after battling in London against Megaguirus 2007.
Abilities
Atomic breath
Grappling moves
Melee moves
Can resist heat and nuclear attacks
Atomic Shockwave
Has a sixth sense which can tell him where he needs to be
Weakness
Electricity attacks
Theme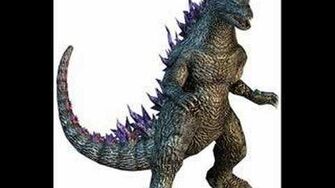 Ad blocker interference detected!
Wikia is a free-to-use site that makes money from advertising. We have a modified experience for viewers using ad blockers

Wikia is not accessible if you've made further modifications. Remove the custom ad blocker rule(s) and the page will load as expected.