Used by
Allies
Enemies
Species
Age
Height
Length
Faction
Category
| | | |
| --- | --- | --- |
| " | This fight is going to be violent, I will do my best to not get dirty | "  |
| | — Don't blame Helyon, she dislikes dirt very much | |
Helyon (full name: Sarah Isabel Johnson) is a 22-year-old eagle that helps defend Earth.
Personality
Helyon acts quite immaturely and often thinks she should have extra things, due to being the Queen's pet. Even with these issues, she's a jolly girl.
History
Helyon was born as the Queen of England's pet. She was known for being quite obedient, and unusually fast, slowing down the Kaiser of Germany's hawk. When H.O.W.L opened, the Queen felt the need of helping. Thus, she gave Helyon to the institution.
Later, she, along with the other 5 original members of H.O.W.L were killed during an ambientalist protest, where a maniatic anti-H.O.W.L jerk decided to light the HQ on fire. Her severed head was found by a jolly primate who fixed her and her H.O.W.L comrades, giving her a more humanlike look and making her more feminine looking.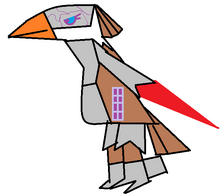 Abilities
Laser Wings: Helyon's wings work like blades, even working in mid-air.
Rocket Boots: Replacing her former wings, these enhance her abilities at flying.
Beak: She also uses her beak as a weapon, which can break rocks like a pickaxe.
Size Changing: Helyon isn't very big. In fact, she's 4.5 meters tall, among the shortest characters in the RPverse. However, this flaw is compensated by her ability of growing as big as an average kaiju. It only lasts 3 hours though, and it takes her one entire night to reload. Similar to a Color Timer, once the time lapse is over, Helyon shrinks back to her original size.
Other Stuff
Likes:
Fighting for Earth
Playing videogames
Kaiju Films
Defending Earth
Racing other birds
Collecting bugs
Flying
Her royal descendance
Barrel Rolling
Hanging out with friendly kaiju, Robot Masters, and good guys in general
Nitrogeon (it's a secret to everybody, yours truly, Princess Sarah the Eagle)
Dislikes:
Evil
Menaceful Aliens
Hunting Seasons
Hounds
Not being able to fly
Boringness
Duck Hunt Dog
Airplanes crashing with her
Peppy telling her to NOT DO A BARREL ROLL
Don Muto
DIRT, ESPECIALLY DIRT IN MY FEATHERS!
Trivia
-Helyon loves collecting bugs.
-She also secretly loves Nitrogeon, but she's too shy to confess
-Despite being a bald eagle, she has brown hair-feathers
-She is hated by most of H.O.W.L
-She also has the same theme song of most of H.O.W.L: The SSSP's march