Used by
Allies
Enemies
The Yakumo Clan's enemies
Species
Age
Height
Length
Faction
Category
| | | |
| --- | --- | --- |
| " | I can give ya anythin'. Ya just gotta help me out for a sec. Fair business, I'd say! | "  |
| | — Hoopa | |
Hoopa (フーパ ?, Hoopa) is a Psychic/Ghost-type Pokémon used by Kyuzeth.
Main Information
Hoopa claims to be a businessman, along with his Shiny brother, travelling from dimension to dimension through subspace to make 'deals' with anyone whom he takes interest to. These 'deals' mostly consist of Hoopa asking for information on the world's greatest valuables, with the aim to obtain and sell them later on to become even richer than they already are. If the 'business partner' agrees to help the brothers, the former will be richly rewarded; if not, the Hoopa will attempt to convince their conversation partner to spill the beans anyway. This method of business has netted these phantom brothers many riches over the course of thousands of years.
The Hoopa Brothers in Gensōkyō
W.I.P.
Formes
Hoopa has two different Formes he can take on. His most common Forme is Hoopa Confined; this Forme's powers have been sealed. The seal can be undone by using the Prison Bottle, turning the Mischief Pokémon into Hoopa Unbound, the Djinn Pokémon. Hoopa Unbound is far stronger than Hoopa Confined in general.
Hoopa Confined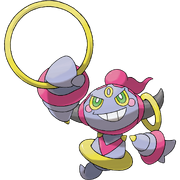 | | | |
| --- | --- | --- |
| " | Ain't that just the best deal ever? Ya can't get much better business than this, I tell ya! | "  |
| | — Hoopa | |
| | | |
| --- | --- | --- |
| " | When I say I can give ya anythin', I mean anythin'. | "  |
| | — Hoopa | |
Hoopa's standard Forme. His powers are sealed and he can only open rings of about 1.5 meters in diameter at most, but is capable of traveling through sub- and hyperspace at will.
Data
Height: 0.5m (1'08")
Weight: 9.0 kg (19.8 lbs)
Type: Psychic/Ghost
Ability: Magician
Stats: 80 HP/110 Atk/60 Def/150 SAtk/130 SDef/70 Spe
Moves
Work Up: Hoopa gets a sudden surge of adrenaline, boosting his Attack and Special Attack stats.
Phantom Force: Hoopa disappears into nothingness for several seconds, then reemerges, ramming the opponent while coated in spectral energy.
Focus Blast: Hoopa charges a large orb of spirit energy in his hands, which he fires seconds later.
Hyperspace Hole: Hoopa uses a ring to dive into subspace for a moment and shoots out an energy burst from subspace at the opposition.
Hoopa Unbound
| | | |
| --- | --- | --- |
| " | NOW, THIS LAND SHALL BE MINE FOR THE TAKING! I SHALL ROB IT OF ALL ITS RICHES AND ADD THEM TO MY OWN! | "  |
| | — Hoopa Unbound | |
| | | |
| --- | --- | --- |
| " | JUST LOOK AT YOURSELF, YUKARI. BEATEN UP, THROWN AROUND AND THRASHED LIKE AN ANGRY CHILD'S PLAYTHING. | "  |
| | — Hoopa Unbound | |
The form Hoopa takes on after using the Prison Bottle, which releases Hoopa's sealed power and transforms him into the maniacally avaricious Hoopa Unbound. This madman of a Pokémon possesses tremendous power, capable of mind controlling individuals and summoning them to him from anywhere. Hoopa Unbound's rings are large enough to plunder entire castles, if not much more than that. He is ruthless, heartless, insolent and utterly brutal, and nothing will stop this malicious Pokémon once he has set his eyes on what he desires...
Data
Height: 6.5m (21'04")
Weight: 490.0 lbs (1080.3 lbs)
Type: Psychic/Dark
Ability: Magician
Stats: 80 HP/160 Atk/60 Def/170 SAtk/130 SDef/80 Spe
Moves
Gunk Shot: Hoopa Unbound fires an orb of toxic waste at the target that explodes on contact. It has a decent chance to poison the target.
Drain Punch: Hoopa Unbound covers his six fists in energy, then punches the opponent repeatedly to inflict damage and recover half the damage inflicted.
Psychic: Hoopa Unbound takes a telekinetic grip on the opponent, then either hurls them away or looses a powerful psychic pulse.
Hyperspace Fury: Hoopa Unbound traps the opponent in hyperspace, then starts a brutal onslaught of punches using all of its six fists. The move lowers Hoopa Unbound's Defense.
Ad blocker interference detected!
Wikia is a free-to-use site that makes money from advertising. We have a modified experience for viewers using ad blockers

Wikia is not accessible if you've made further modifications. Remove the custom ad blocker rule(s) and the page will load as expected.