Used by
Allies
Enemies
Species
Age
Height
1.9 meters (Tyranno)
1.6 meters (Ptera)
Length
Faction
Category
The reincarnations of KyoryuOh are original characters by User:Ghidorahnumber1.
Story
Tyrannojin, aka Tri Kyo, and his sister, Pari Kyo, are the reincarnations of the ancient being KyoryuOh. Because of this, they become the Choujin Tyrannojin and Pterajin to fight the evil god Orochi in their world. They have the powers of Dinosaurs.
After defeating Orochi in their world, a mysterious being appeared. That being resurrected Orochi, and sucked the Choujin into the RPverse. Their new goal is to stop Orochi from reforming and save the RPverse.
Tyrannojin
Personality
Tyrannojin is usually quiet and reserved, but is a strong fighter. He is not extremely intelligent, so he makes up the "Body" of KyoryuOh. Threatening his sister will cause him to enter a blind rage and attack whoever did.
Forms
TBA
Pterajin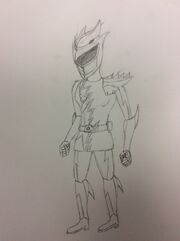 Personality
Pterajin is very intelligent, but is not as strong as Tyrannojin. She is very brash and open about her opinions, and tends to get in arguments a lot. She tends to take advantage of her brother, having him attack people she doesn't like by lying.
She is the "Brain" of KyoryuOh, and has less forms due to her inexperienced fighting abilities.
Forms
TBA
Ad blocker interference detected!
Wikia is a free-to-use site that makes money from advertising. We have a modified experience for viewers using ad blockers

Wikia is not accessible if you've made further modifications. Remove the custom ad blocker rule(s) and the page will load as expected.