Used by
Allies
Enemies
Species
Age
Height
Length
Faction
Category
Lucas (ルーカス Lucas) is a small spherical GDF robot and an RP character used by Gallibon the Destroyer.
He is Camero's arch-nemesis.
Personality
Lucas is super smart and also super smug little robot that works for the GDF (mainly the Romanian GDF Division.) He is shown to be very loyal and polite around his GDF allies. He does not like Camero though, as he considers Camero to be a total twit and to be inferior to him.
He also really likes to play chess and read books in his spare time.
History
Lucas was originally a robot that acted as guard on Monster Island. Eventually, he was soon promoted into becoming part of the Romanian GDF Division and acts as the Romanian GDF Commander Constantin's main lookout and robot buddy. He is often seen helping around the other GDF members and such.
Abilities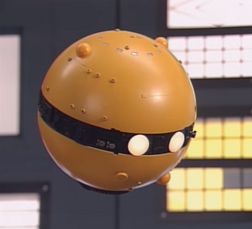 Flight: Lucas can fly naturally.
Advanced Artifical Intelligence: Lucas is very intelligent, capable of excellently translating even the most bestial kaiju's language and is a master of chess.
Flashlight Eyes:' Lucas can use his eyes to shine out lights like flashlights to see in dark environments.
Linguistic Skills: Lucas knows many languages and can translate monster language to English language.
Likes and Dislikes
Likes
Chess
Having fun at Camero's expense
Being part of GDF
Reading
Correcting others mistakes
Feeling smart
His ego
Dislikes
Camero
Losing
Annoying people
Trivia
Though he and Camero really seem to dislike each other, it is not known what he thinks of N.I.G.E.L. at the moment.