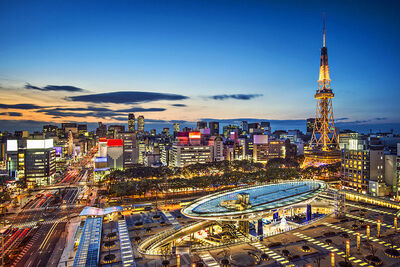 Nagoya is a city located in Japan, and often targeted location by kaiju in the RPVerse.
History
April 20, 2015 - Inferno DesGhidorah destroys Nagoya before the Battle of Osaka.
??? - Mamagon, Shukra and Demeking attack the city before Neo SuperMechaGodzilla and BirthGoji show up, beat them up and chase them out.
??? - Makia and Jay fight Garbage Monster, Hangyolas, and the K.G.M. in Nagoya after the city is wrecked.
March, 2016 - Mohgra and Heisei Gamera are sent by Helicobacter to attack Nagoya.
June, 2016 - Gelatinous Cube and Taynk (from The Geonosians ) and Cyber-Zilla (from the Tachyons) attack the city. Lostverse Zilla Jr., Neo Gigan, Neo SuperMechaGodzilla, Neo Kiryu, and Komi drive them off and kill Taynk.
June 12, 2016 - Bezerk Shodai Moguera wreaks havoc in the city.
July 15, 2016 - Garbage Monster goes on a rampage in the city. Edzilla, LV! Baragon and Kashima C then show up to stop him and eventually defeat him.
August 8, 2016 - 15Goji attacks the city, leaving it in ruins.
October 30, 2016 - Reizaus attacks, only to be killed by Gamera and Core Braver.
And many, many more...
Landmarks
Atsuna Shrine - Prominent shrine to a sacred sword
Port of Nagoya Public Aquarium - Includes a Killer Whale
Toyota Commemorative Museum of Industry and Technology
Nagoya Tower
Oasis 21
Nagoya Castle
Tokugawa Art Museum
Nagoya City Science Museum
Higashiyama Zoo and Botanical Gardens
Trivia
Nagoya is possibly the most attacked location in the RPVerse.