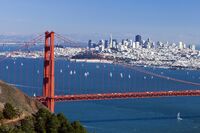 San Francisco is the cultural, commercial, and financial center of Northern California which is located in the United States, The city and its surrounding areas are known as the San Francisco Bay Area.
It is also a location used in RPs, Over the course of several months after it was introduced, it has been destroyed, rebuilt, and destroyed again multiple times.
History
Landmarks
Golden Gate Bridge

Fort Point (located underneath of the bridge)

Embarcadero District

San Francisco-Oakland Bay Bridge
San Francisco Ferry Building
Fisherman's Wharf
Pier 39

Transamerica Pyramid
Coit Tower
San Francisco City Hall
Alcatraz Island
Treasure Island
San Francisco cable car system
Heritage Streetcars

F Market & Wharves
E Embarcadero
Trivia
This city has almost the exact same "issues" that New York does, as both are constantly picked for RPs and major events and are constantly rebuilt without anyone saying they are.
Ad blocker interference detected!
Wikia is a free-to-use site that makes money from advertising. We have a modified experience for viewers using ad blockers

Wikia is not accessible if you've made further modifications. Remove the custom ad blocker rule(s) and the page will load as expected.