Used by
Allies
Enemies
Species
Age
Height
Length
Faction
Category
Switchblade is a Maximal cop and an RP character used by Gallibon the Destroyer.
Personality
Switchblade is a highly-trained member of the Maximal Command Security Force. He used to be a tank operator, but he grew disinterested in that job and moved onto becoming a security officer at the Security Force. Overall, Switchblade is a pretty stoic but loves some action once and a while.
History
Debut and Death: Tabriz Tango
Switchblade along with his Maximal Cop allies appeared on Earth and landed on Tabriz to arrest Knock Out, Scurrydown and Janitornator. When it became "clear" to 9K that the three 'Cons were up to no good, 9K ordered Switchblade and Stopgap to eliminate them with their guns. Before they could open fire though, Nemesis Prime appeared from out of the blue and ran over Switchblade, crushing him to death.
Equipment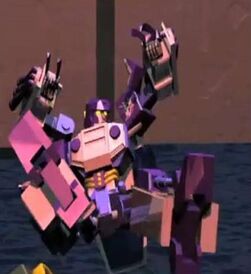 Twin-Blasters: Switchblade had a laser blaster that could shoot dual blasts. 
Retractable Claws: Switchblade was armed with two retractable blades on his fists that acted like claws.
Trivia
Switchblade was the first out of the four Maximal cops to die.
He is not to be confused with Switchback.