Used by
Allies
Enemies
Species
Irradiated Godzillasaurus
Age
Height
Length
Faction
Category
TradingBattleGoji is a character used by GarudaGoji.
History
TradingBattleGoji first appeared in North Seattle, then began to trudge to the Space Needle where it spotted Neo Giant Condor. He roared a challenge to the Condor and as the Condor accepted, the gojiran fired out a radioactive fireball at the Space Needle. They both battled eachother before a rage power-up appeared in the middle of the ruined Space Needle. The gojiran grabbed the power up and ended the Giant Condor with a purple Spiral Ray. It then left Seattle.
Abilities
Radioactive Fireball
Atomic Breath
Spiral Ray
Purple Spiral Ray
Nuclear pulse
Decent Regeneration
Excels in CQC
Underwater Experience
Theme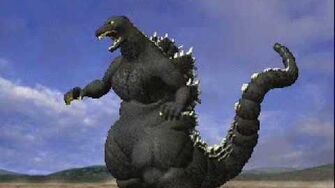 Ad blocker interference detected!
Wikia is a free-to-use site that makes money from advertising. We have a modified experience for viewers using ad blockers

Wikia is not accessible if you've made further modifications. Remove the custom ad blocker rule(s) and the page will load as expected.