Used by
Allies
Enemies
Species
Age
Height
Length
Faction
Category
WaseiKong
(ワセイ・コング
Wasei Kongu
) is a giant ape kaiju and an RP character used by Gallibon the Destroyer.
Personality
WaseiKong doesn't have much of a personality due to behaving most of the time like a wild animal, though he is the lesser intelligent of the duo of Kongs and is also the more goofy one, being very playful.
History
Debut: A Tale of Two Kongs
WaseiKong and his comrade EdoKong were delivered from crates from Japan to Inspector Cypher to assist his chase SquidMask. As he and EdoKong were freed from their crates, Inspector Cypher ordered the two Kongs to capture SquidMask and if they were successful, he would reward the two greatly.
While EdoKong climbed after SquidMask, WaseiKong stayed down below to capture him, in case SquidMask decided to come down. However, SquidMask thought ahead and hid under an invisible box that way WaseiKong could not find him. After a while, WaseiKong gave up searching for SquidMask and went with EdoKong to beat up FlamingoMask. After a brief but hectic fight with the Shadowblood, WaseiKong and EdoKong were defeated by FlamingoMask's powerful blast of light energy that sent the two apes flying away and landing on top of Inspector Cypher. WaseiKong and EdoKong then picked up Inspector Cypher and ran off.
The Bat Invasion Pt. 1: Challenge of the Vampire Nobleman
WaseiKong briefly appeared in the RP where he and EdoKong were caught rampaging in San Antonio, as apparently they were searching for their films (which are lost) and got irritated at the fact they couldn't find them. The Units got into Machine G and used him to chase the two giant apes out. WaseiKong threw two boulders at Machine G in an attempt to take him down, but it failed and Machine G fired it's Twin Maser Cannons at EdoKong and WaseiKong's area, scaring them away and the two Kongs then ran off, retreating.
Abilities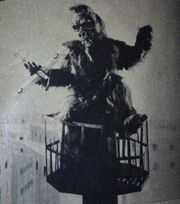 Super Strength: WaseiKong is very strong, being stronger than ten men.
Size Change: WaseiKong can change his size to giant monster size at will.
Trivia
WaseiKong comes from the now lost short film, Wasei King Kong.
He thinks he's a guy in a gorilla suit half of the time.
WaseiKong (along with EdoKong) were FlamingoMask's first opponents.